The Resort:
Located near the Spanish French border, in the Alta Ribagorça region of Spain, Boi-Taull resort has the highest altitude ski area in the Pyrenees. This helps hold its snow until as late as May, giving it one of the longest ski seasons in the area.
Skiing in Boi-Taull:
Set in a bowl-shaped area where runs lead down to the base lodge, Boi-Taull has a range of slopes aimed at all abilities. This allows students to progress well. There are also a number of non-marked pistes that are safe and skiable, expanding the skiable territory to over 50km. The addition of a sledding track, alongside efficient lift systems that make queues non-existent, add to the appeal of the resort. With 5 different levels, the Snowpark is also a popular feature within the resort thanks to its range of railings and funboxes.
For Schools Because:
Skiers end the day by leaving all kit at the base lodge which makes accessibility and travel around the resort hassle-free. Combine this with a ski school, ski hire huts (which provide skis, snowboards, and snow shoes), and a medical centre at the foot of the slopes, the resort has a safe and warm feeling to it which is perfect for a large school trip.
Après Ski:
A self-service restaurant at the base lodge provides a handy opportunity to take in some fuel ahead of your next trip onto the slopes, whilst the supermarket in the village sells drinks and snacks. The Font Ginebrell Bar is located at 2035 feet providing stunning views while you take a well-earned break with a selection of hot and cold drinks as well as sandwiches and burgers. There is also an arcade with games machines, pool tables, and table football. Quiz nights and discos add to the list of evening events. Back on the snow, bum-boarding and ice skating are also available in Boi-Taull.
Resort Height 2043m
No. of Runs 42
Easy Runs 9
Medium Runs 18
Difficult Runs 15
Total Distance of Piste 45km
No. of Lifts 11
Vertical Drop 704m
Calais Transfer Time 16hrs 15mins
Toulouse Airport Transfer Time 2hrs 50mins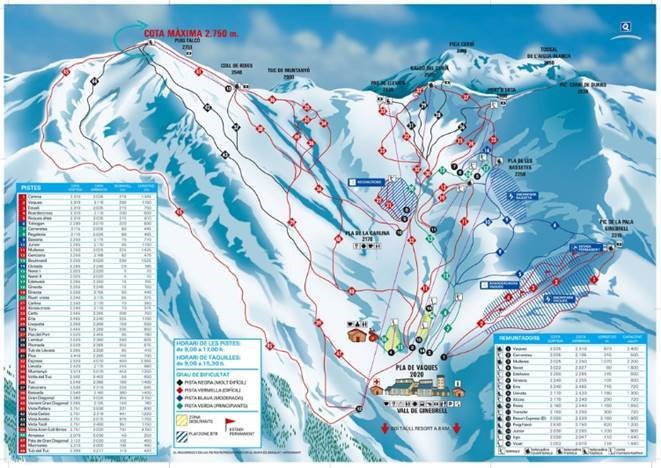 Hotel Romanic ***
A comfortable 3* hotel, the Hotel Romanic has 89 double bedrooms, 16 of them interconnected, distributed over 3 floors. Every room has heating, bathroom with hairdryer, T.V., telephone and optional safe-deposit box.
Breakfast and dinner are served at the hotel while hot lunch is arranged at the base lodge of the ski area.
Just an 8 minute coach ride to the base lodge of the ski area where the ski hire, ski school meeting point and nursery slopes are located.
Facilities:
24 Hour Reception
Wifi (all hotel)
Conference Room
TV Room
Free Gym
Hotel Taull Resort **
This spacious hotel is perfect base from which to explore the ski area. It has 67 rooms with accommodation for 2 – 6 guests and all the rooms have bathroom and TV.
The hotel offers a self self-service restaurant, bar Schuss, as well as a large games room and internet corner. The ice skating and the disco room is just in front of the hotel.
Located in the centre of the ski resort next to a supermarket with all amenities within easy walking distance. Just an 8 minute coach ride to the base lodge of the ski area where the ski hire, ski school meeting point and nursery slopes are located.
Facilities:
Students 2 – 6 bedded en-suite rooms
Teachers twin en-suite rooms
Wifi (common areas)
Games Rooms
24 Hour Reception
Apres Ski
Make sure you speak to your Regional Sales Manager to include the apres ski activities you want in your quote!
Our popular Après ski activities…